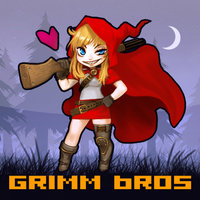 Grimm Bros is an independent video game developer founded by Randis Albion and Ash Monif. The studio focuses on darker themed fairy tale inspired games.
Their debut title Dragon Fin Soup is a classic 2D JRPG that blends together roguelike elements, tactical action, and deeply flawed characters with tales of murder, madness, and a splash of dark humorous libations.
Ad blocker interference detected!
Wikia is a free-to-use site that makes money from advertising. We have a modified experience for viewers using ad blockers

Wikia is not accessible if you've made further modifications. Remove the custom ad blocker rule(s) and the page will load as expected.